In 2014, Foundation46 began an annual tradition of recognizing a member of the community for demonstrating a commitment to enriching and enhancing education. The purpose of this award is to recognize someone within the District 46 commun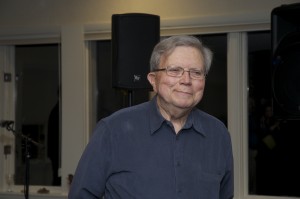 ity each year who demonstrates an understanding that it "takes a village." The education of the children in our community is our collective responsibility as members of a community. The award has been named for its first recipient, the "Tom Meskel Commitment to Education Award."
Our 2017 Recipient
Abbie Pietruszynski is recognized throughout the community for her steadfast volunteerism across PTOs and with the D46 Sprouts program, but Abbie's commitment to education really has run much deeper. Before beginning a career in music education, Abbie volunteered with the Junior Achievement program which prepares children for the future by fostering experiential learning. She later taught music at Prairie Crossing Charter School, where she developed a curriculum that integrated K-5 music with the content being learned in other subjects throughout the day, helping students make important connections with music.
Although no longer working for pay outside of the home, Abbie's commitment to education has not faltered. When her own children grew to be school age, she began working tirelessly with the PTO at Woodview School. Over the course of the last seven years, she has volunteered consistently and reliably for PTOs at both Woodview and Frederick Schools, serving as an officer and spearheading new student activities such as the Wings Over Woodview Fun Run. Abbie's willingness to take the time to share what has been learned and developed in one building with PTO members in other buildings has been deeply appreciated by others who are also so giving of their time. Abbie has also taught music at Vacation Bible School over the course of several years.

Abbie has committed a great deal of time, energy, and enthusiasm to the development of children. Her commitment is simply awe-inspiring and certainly deserving of recognition as a Commitment to Education Award recipient. Please help us congratulate her and take a moment to thank her for all she has done for our kids.
Our 2016 Recipient
John Badovinac's compassion, energy, and motivation are contagious. He leads by example and makes it easy for us to follow. In 2007, John first brought his "Boot Camp" activity to Meadowview School's Imagination Day. It is a terrific motivational activity that gets the kids to use their physical abilities and pushes them just enough to take risks comfortably. Year after year, it is one of the most popular Imagination Day events.

When his daughters moved from Meadowview to Frederick and GMS, John followed suit, adding his "Boot Camp" to the Frederick spring program, and also signing on as a Science Olympiad event coach. Over the next few years, he coached a number of Science Olympiad activities, and in 2011 led the Frederick team to the State competition, where they earned a first place ranking. John reached out to the College of Lake County to find specialized educators who would mentor our students by sharing their time and interests and of course, improve the team's performance. 
Although  his kids have moved on to high school and college, John continues to coach two Science Olympiad events: the Solar System and Air Trajectory. He spends endless time and effort to pull together lesson plans that will help the kids improve their knowledge and skills. He also hosts showcase events at the beginning of each new school year to introduce students and their parents to Science Olympiad.
Finally, we must recognize John's role as one of the founders of Foundation46. John's unique brand of leadership, his foresight, his drive, and his enthusiasm allowed the community need of additional support to our schools to be realized. This Foundation, whose purpose is to "enhance and enrich the educational experience offered to all students in D46" is what John is all about.

We know that as individuals, we can do a great deal to help our own kids achieve. But what do we do to help others' kids? When do we move outside of our own personal world and step out into that village – to help all of our kids become the best that they can be? Thank you John Badovinac for inspiring all of us to do more.
Our 2015 Recipient
It is with great pleasure that we announce that Mary Lillstrom of Mary's Peppermint Stick Preschool is the 2015 award recipient—she was presented with the Commitment to Education Award at the foundation's Nine, Wine, and Fine Arts event on June 6th, 2016. Her name has been added to the perpetual plaques that are displayed in each of our schools.
Ms. Mary, as she is known, has been involved with the preschool for more than 40 years since she began volunteering there as a teenager, taking over as the director in 1984, and later purchasing the school in 1996. In that time, she has touched the lives of countless children and parents as she has focused on the education of the whole child, as well as the whole family, to form "caring, sharing, loving, peaceful people." Mary fosters in her students an understanding of the needs of the homeless by involving her students and families in supporting the PADS program at Grayslake's United Protestant Church, and in making quilts for those less fortunate. Mary and her preschool are embedded deeply in our community. She regularly brings her students to the Grayslake Historical Society and together, they decorate a tree for the annual Giving Trees program. She teaches both parents and her "little people" to love and accept first because positive growth happens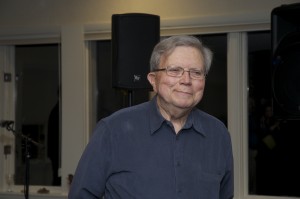 naturally when children are securely attached, supported and nurtured—and we as a community benefit many times over when those children (roughly 2,000 and counting!) complete preschool and become a part of the District 46 community.

Our 2014 Recipient
Tom Meskel's love of education comes naturally, as he was born into an Iowan family of teachers. He provided instruction to his sailors throughout his Navy career and taught math and science for 32 years. After retiring from Niles West High School, he served on the District 127 Board of Education while he continued to provide instruction to student teachers. Today, Tom continues to supervise student teachers and has committed seven years of volunteer time to the Foundation. When Tom learned this fall that the District 46 Science Olympiad teams were in need of additional volunteer coaches, he volunteered to teach Simple Machines at not just one, but two schools. Tom has shared that he holds a belief that the future of our young people is directly related to the provision of educational opportunities for them. In his words, "I love schools, and the people who make them work." Thank you Tom for inspiring us all and reminding us what it means to do what you love and to love what you do!